News
The Website is Moving! We are starting the website from scratch. Here is the new site!
The Great Transformation of 2015
Welcome to the Universal Protection Council Wiki!
This wiki is all about people or things having to do with the Universal Protection Council and its rival, the Galactic Conquest Council. This wiki can be edited by anyone. ObiKenobiUPC is a Bureaucrat and Founder of UPC Wiki. The main editors and Bureaucrats of this wiki are Macewindudoggy and Anaken21sec1 Please them for more information. You may wish to view the About page on this wiki to explain the purpose of this wiki. Also, please visit this wiki's Edit Policy before you begin contributing to this wiki. Enjoy editing!
This wiki has 192 articles.

NOTE: The UPC is going over many major changes and this site is going through even more changes. Many pages will be considered outdated or may be taken out of the UPC. All of these pages will be kept for either being updated or being considered former.
Universal Protection Council
The Universal Protection Council (UPC) is an organization that combines many movies, books, series, tv shows, etc. into one organization that tries to govern and protect all that's loyal to it and passes certain qualifications. It has different sections, a section for each group that loyal to it. It has a uniqe and original type of government, some of which is similar to the United States government. It works to fight its rival organization, the Galactic Conquest Council (GCC) which is the exact opposite. It has different sections that are all enemies and rivals of the UPC sections. It is a constant battle between them, so get ready to dive into the universe of the UPC.
Important Articles
Government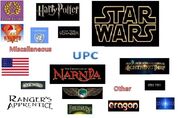 Sections
Other

Community content is available under
CC-BY-SA
unless otherwise noted.