Perseus "Percy" Jackson



Section VI: The Lightning Thief: Secretary

Organization Councils:

Magic/Powers Council: PA
Weapons/Combat Council: Member

UPC Army/Rank:

Half-Blood Army: Commander

Other (UPC):

None

Home Planet/Species:

Earth/Demigod

Outside Affiliations:

Camp Half-Blood
Poseidon Cabin (Head Counselor)
Camp Jupiter (Praetor)
12th Legion
Fifth Cohort
Master Swordsmen
Medieval Warriors

Primary Weapon:

Anaklusmos aka "Riptide" (Sword)

Security Clearance:

Class C

Trainers:

Luke Castellan
Lupa
Luke Skywalker
Perseus "Percy" Jackson is the secretary of
Section VI: The Lightning Thief
and one of the most respected and skilled half-bloods in the
UPC
.
Biographical InformationEdit
Percy Jackson is the Head Counselor of the Poseidon Cabin in Camp Half-Blood and a Praetor of Camp Jupiter.
Early LifeEdit
Perseus "Percy" Jackson is a Greek demigod son of the sea god, Poseidon, and Sally Jackson, a mortal. To protect him from monsters, Sally married a man name Gabe Ugliano who has a stench so bad, it covered Percy's demigod scent.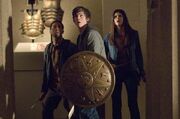 Quest for the Master BoltEdit
Quest for the Golden FleeceEdit
Quest for ArtemisEdit
Quest for Daedalus/Battle of the LabyrinthEdit
Final BattleEdit
Founding of the UPCEdit
Development of the UPCEdit
Other InformationEdit
Percy Jackson holds Class C Security Clearance because of his position as a presidency member of his section. Jackson is also the vice president of the New York City, New York Base, and works with its president, Chiron, to report the base's needs and activities to the UPC. They work with its General and Commander, Michael Yew and Clarisse La Rue, to work on the more administrative, financial, and practical aspects of the base. Jackson also holds a lightsaber license, one of the few non-Jedi to hold one. This allows him to own and use a lightsaber, despite his lack of Force potential. He was trained by Jedi Grandmaster Luke Skywalker to use this dangerous weapon.
Quest for Thanatos/Camp JupiterEdit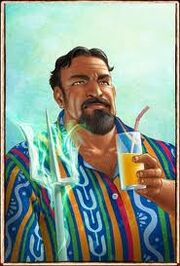 Quest to Unite the Camps/Quest to Free Nico di AngeloEdit
Organization CouncilsEdit
Percy is a member and former secretary of the Magic/Powers Council, and a member of the Weapons/Combat Council for the sword.
Personality and TraitsEdit
Powers and AbilitiesEdit
Hydrokenesis
Combat skills
King of Horses
RelationshipsEdit
The following are the different types of individuals that Percy Jackson associated with.
The following are different romantic and love/attraction-associated relations that Jackson has had with individuals he has associated with.
Annabeth ChaseEdit
Rachel Elizabeth DareEdit
Friendly/AquaintanceEdit
The following are friends and acquaintances that Percy Jackson has and their relationships with him.
Grover UnderwoodEdit
Frank ZhangEdit
Hazel LevesqueEdit
Jason GraceEdit
Clarisse La RueEdit
Nico di AngeloEdit
The following are relationships that Jackson has held with his family members.
Sally JacksonEdit
Gabe UglianoEdit
Paul BlofisEdit
The following are the relationships that Jackson has held with his mentor.
ProfessionalEdit
The following are professional relationships Jackson has had with people he has worked with.
AppearanceEdit
Percy is part of the Land Division of the UPC Army.
Wars/Battles/Skirmishes/Missions/Affairs/Duels/QuestsEdit
Titan War

​Quest for the Master Bolt
Duel with Ares
Quest for the Golden Fleece
Quest for Artemis
Duel with Ethan Nakamura
Quest for Daedalus
Battle of the Labyrinth
Battle of Manhattan
Duel with Kronos/Luke Castellan

Giant War

​Quest to Free Thanatos
Quest to Unite the Camps and Free Nico di Angelo
Homes/OfficesEdit
Camp Half-Blood (Poseidon Cabin)
Camp Jupiter
The Argo II
Manhatten Apartment
Coruscant Meeting Base
Washington, D.C. Meeting Base
Narnia Meeting Base
Yavin 4 Base
London, England Base
Ninjago Base
Starship UPC Base
Algaesia Base
New York City, New York Base
Secretary (Former Magic/Powers Council and Section)
Presidency Assistant (Magic/Powers Council)
Commander (Half-Blood Army)
Head Counselor (Poseidon Cabin)
Centurion (Former Fifth Cohort)
Secretary of Section VI: Camp Half-Blood

Time Period

2009-PD

Before

None

After

None
Secretary of Magic/Powers Council

Time Period

2010-2012

Before

None

After

Eragon Shadeslayer
Presidency Assistant of the Magic/Powers Council

Time Period

2012-PD

Before

Ry-Gaul

After

None
Commander of the Half-Blood Army

Time Period

2011-2013

Before

None

After

None
Head Counselor for Poseidon Cabin

Time Period

2005-PD

Before

None

After

None
Praetor of the Twelfth Legion

Time Period

2012-2012

Before

Jason Grace

After

None
AppearancesEdit
The Lightning Thief
The Sea of Monsters
The Titan's Curse
The Battle of the Labyrinth
The Last Olympian
The Lost Hero (Mentioned)
The Son of Neptune
The Mark of Athena
The Demigod Files
The Demigod Diaries
The Lightning Thief (Film)
The Sea of Monsters (Film)
External LinksEdit