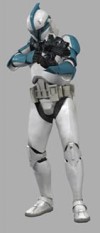 Clone trooper lieutenants
were specially trained clone troopers in the Grand Army of the Republic that were in charge of about thirty-six troopers, or a platoon, which consisted of four squads. Each squad was led by a sergeant, so a lieutenant was the leader of four sergeants. They served and are serving in the Clone Wars.
Clone trooper lieutenants wore blue Phase I clone trooper armor during the earlier years of the Clone Wars. In the last years of the Clone Wars, they wore Phase II armor, but didn't wear different armor than other clone troopers in the platoon, because different armor distinguished them by division.
ARC trooper lieutenants wore ARC trooper armor, which consisted of kamas, rangefinders, pauldrons, and sometimes a hidden weapon. Even thought they were different, they still had blue markings on their armor.
Clone trooper lieutenants occasionally wore painted armor to match an environment they were going to battle in: An example is camouflage for a forest habitat.
Known_Clone_Trooper_Lieutenants
Edit
Alden
Aven
Barr
CL-33/890 (2nd Lieutenant)
Denal
Galle
Havoc
Hawk
Jaing
Kom'rk
Mereel
Prudii
Thire
Trap
Trapper
Treve
Unidentified ARF trooper lieutenant (Teth)
Appearances
Edit
Equipment
Hero of Cartao
Jedi Trial
Reversal of Fortune
Star Wars Episode II: Attack of the Clones
Star Wars Episode III: Revenge of the Sith
Star Wars: Republic: Into the Unknown
Star Wars: The Clone Wars -- "Ambush"
Star Wars: The Clone Wars -- "ARC Troopers (Episode)"
Star Wars: The Clone Wars -- "Brain Invaders"
Star Wars: The Clone Wars -- "Clone Cadets"
Star Wars: The Clone Wars film
Star Wars: The Clone Wars -- "Rookies"
Star Wars: The Clone Wars -- "The Hidden Enemy"
The Clone Wars: Headgames
The Clone Wars: Prelude
The Clone Wars: The Pengalan Tradeoff
Clone troopers in the Databank (backup links 1 2)
Inside the Worlds of Star Wars: Attack of the Clones
Star Wars Insider 84
Star Wars Insider 87